Latest Proposal Kit Ideal for SEOs

By Kalena Jordan of Web Rank

Last year I discovered a terrific new business tool and I was so thrilled with its potential that I wrote a review article about it to share my discovery with others.

The product was Proposal Kit. My review was called Close the Sale With Proposal Kit and I've had a lot of feedback from readers of that article, thanking me for introducing them to the product.

In case you're not already familiar with the software, Proposal Kit takes the guesswork out of drafting a proposal or contract. It automates the chore of putting together a complex business proposal. Basically, Proposal Kit provides a comprehensive range of templates to suit any business requirement and helps you build a framework for your proposal to match virtually any product or service offering. You then flesh out the templates with your own data and contact details. Templates are particularly suited to online businesses and include documents for the initial sales pitch, the planning stage, estimating, contracting, project timelines, analysis and even invoicing.


Sample Proposal Pack Template Style

I've been using Proposal Kit for over 8 months now and I am still as enthusiastic about it as ever. So when developers of the product (Cyber Sea) told me of their latest upgrade this month, I was very excited.

You see, amongst the 28 new contract templates available in the new versions of Proposal Kit Pro and Contract Kit Pro is a Search Engine Optimization Services Contract, designed for SEOs just like me. More about that later, but first let's take a look at what's been upgraded in the latest versions of the product:
Proposal Kit Pro 8.0/Contract Pack Pro 7.0

> 28 new contracts, agreements and related documents have been added, consisting of over 100 pages of new material, (for example: Software BETA Testers Agreement, SEO Services Contract, Authorization for Credit Card Charge Signature Form, 3rd Party Web Hosting Reseller Agreement)

> PDF versions of all documents are included for comparison purposes (useful if using word processors other than Microsoft Word and you want to check your formatting against the intended formatting).

> Contract Pack is now supported in more operating systems including Windows, Macintosh and Linux.

> Contract Pack documents are now supported across many word processors (not just Word). Documents now operate in Word (all versions), Word Perfect, Star Office, OpenOffice.org and Appleworks.


Sample Proposal Pack Template Style

> All proprietary Word mail merge tags have been replaced with cross-platform compatible plain text tags.

> More documentation has been included for multi-platform issues, examples of common situations and how to use a variety of Contract Pack documents together as a system and documentation on which documents work best together as a group.

> HTML organizers have been broken into multiple pages with PDF document links added for each document. Recommended document templates related to each other are now included in the document descriptions to aid in putting together a comprehensive collection of project documents as a full contract management system (from pre-project through to post- project requirements).

> There are now smoother template importing and integration features between Proposal Pack, Contract Pack and the Proposal Pack Wizard.

> More graphic template styles (skins) have been added to Proposal Packs (sold separately) for you to choose from. Some of them are pictured, but you can view the full range here.

For details on Proposal Kit pricing, a product comparison chart and information on how to upgrade, Click Here.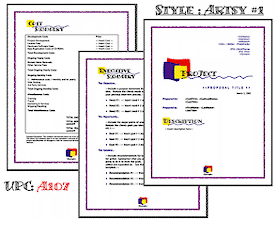 Sample Proposal Pack Template Style
Now about that SEO Services Contract that I'm so excited about. Having run an SEO business for over five years now, I KNOW how difficult it is to produce a reliable, standard contract to give to SEO clients. Search engine optimization can be such a complex process that it is vitally important your client contract spells out your services, delivery schedule, responsibilities and campaign expectations while addressing all areas of potential client confusion.

Such contracts take time to develop and can be very expensive if drawn up from scratch by a law firm. Many SEOs, especially those just starting out, simply don't have the time, resources, knowledge or budget to have a high quality, water-tight contract developed for their business. That's why I see the inclusion of an SEO Services Contract in the latest Proposal Kit upgrade as a boon for SEOs everywhere.

Even if your business already has a contract in place, the purchase price of Proposal Kit Pro or Contract Pack Pro, (both which come with the SEO contract included), is well worth the investment to be able to compare your contract with the detailed sample provided. Something important to keep in mind is that legal contracts in the Contract Pack should not be viewed as binding legal documents until they are reviewed by your lawyer. Because every business has different products, services, clients and operates in different geographical environments, legal requirements vary widely. By all means use the contract templates to draft your contract, but make sure you have the document carefully reviewed by your company law firm to ensure it meets your specific legal requirements. This is emphasized within the templates.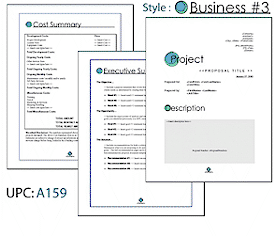 Sample Proposal Pack Template Style

Not all sections of the SEO Contract will apply to every SEO business, particularly those listed under "Services Provided", but the document is so comprehensive that you can mix and match sections and clauses that are specifically relevant to your business, such as "Delivery Dates and Milestones", "Web Page Creation, Edits and Custom Programming" and "Keyword Selection". I've already spotted three or four important clauses that our existing client contract overlooks. Not to mention the benefits of having access to hundreds of professional proposal templates from which to pick and choose to match your own business requirements.

For smaller SEOs or those just starting out in the industry, the latest version of Proposal Kit could save you a fortune and give your business a much needed injection of professionalism. Of course that goes for non-SEO businesses too :-)

Learn more about Proposal Kit...


Greetings Readers!

Happy New Year! I hope you had a memorable one, no matter how you chose to ring in 2004.

This year promises to be a special one for my husband and I, but we are still in baby limbo here, impatiently awaiting the arrival of our first born who is due 12 February.

Speaking of limbo, those of us who work in the search industry are in a kind of limbo at the moment while the search heavyweights like Yahoo, Google and MSN continue to circle each other baring their teeth in preparation for battle. 2004 is set to be the backdrop for a massive search showdown, with the market heating up and expecting to attract billions in revenue. In fact, as you'll see below, the first casualty appears to be LookSmart, who are closing up offices and laying off staff faster than you can say "never screw over your customers" (-;

Last year was a year of consolidation for the industry, with lots of takeovers, buyouts and internal restructuring by the major search firms in preparation for the year ahead. Should be an exciting time!

If you run a small business, don't miss this month's feature article. It reviews the latest Proposal Kit, a tool that - as a small business owner myself - I find absolutely essential. Also this month, we're giving you a New Year's gift. A free downloadable report called How to Prosper With the New Google. It was written especially for webmasters struggling to understand Google's latest algorithm and offers practical advice on how to get your web sites ranking high in the "new" Google.

Enjoy this issue and remember to visit our daily Search Engine News Blog for the latest industry news and gossip.

Till next time - wishing you high rankings...


LookSmart Loses CEO, Closes Australian Operations
LookSmart has announced the resignation of their CEO, the axing of half their global staff and the forthcoming closure of their Australian offices in what seems to be a triple death blow to the troubled search firm.

Former LookSmart Chief Executive Jason Kellerman has stepped down after only two years in the job. LookSmart Australia CEO Damian Smith has been asked by the LookSmart Ltd Board to fill Kellerman's shoes until a permanent replacement can be found.

Since losing its lucrative distribution contract with Microsoft last year, LookSmart, founded in Melbourne nine years ago, has been forced to wind down its global business, including the closure of its British office and the selling of its Australian assets to Sensis, a wholly owned subsidiary of telecommunications giant Telstra.

Sensis operates both the White Pages and Yellow Pages directories in Australia, as well as online services such as CitySearch and Whereis. It is rumored that Sensis paid less than AUD 3 million for the intellectual property behind LookSmart's Australian search technology.

The search firm will also be slashing their global staff numbers from 429 to less than 200 by the end of this quarter and will close offices in Melbourne and Sydney in June. The company will continue to have a presence in the U.S., managed from their San Francisco headquarters.

Yahoo Drops Google Results
Earlier this month, Yahoo announced they would be dropping Google listings from their search portals within the next few weeks, in favor of their own Inktomi search technology. It appears the migration has already started, with many Inktomi listings already appearing in place of Google results when conducting searches at Yahoo.

Previously, a search on Yahoo sites would pull up Google listings as the default search results under the heading Web Results. Yahoo's own Directory results are still provided as back-up search results, accessible by clicking the Directory tab.

Since Yahoo went on a buying spree and purchased both Inktomi and Overture last year, it has been widely expected that they would gradually phase out Google results in favor of Inktomi listings. The concept is not new to Yahoo, with them having used Inktomi listings for a number of years before signing a partnership agreement with Google back in July, 2000.

Open Directory Integrates "Thumbshots"
The Open Directory has now integrated thumbnail-sized screenshots of web pages in its directory listings.

Using a technology called "Thumbshots", the ODP now includes a red toggle ball on all its pages as a way for searchers to activate the web page screenshots and gain a sneak peek of what to expect if they click to a site. The technology was developed by Thumbshots.org, a charitable initiative from Smartdevil.com that contributes its technology back to the Internet community.

Since the official launch of Thumbshots in December 2003, hundreds of Web sites have already integrated the technology into their search engine, directory and content pages.

ODP editors are praising Thumbshots too. "I think that display of the thumbshots adds value in a similar fashion to Google's display of pagerank and sorting", said an editor at Resource-Zone, a public forum used by ODP editors. Editors are apparently using Thumbshots to help review links for inclusion, maintain the categories, remove broken links and spot duplicates sites in the ODP.

How to Prosper With the New Google - FREE Report!
Did you get caught out by the latest Google algorithm change? Did your sites plummet in rank on Google over Christmas? No idea why or how to get back on top?

Fellow industry expert and search forum buddy Dan Thies of SEO Research Labs has written a special report in response to the controversial Google Florida Update that speculates on the reasons for it and explains how to approach the new algorithm if you want your site to be found in Google.

Dan was kind enough to provide us with a copy of How to Prosper With the New Google especially for newsletter readers. You can download it now completely FREE of charge by clicking on the link below (links direct to the PDF). You'll need Adobe's free Acrobat Reader to view the file. Happy Reading!

Google Woos Domain Registrars
Here's something Google I've not heard about before. Google DomainPark allows domain name registrars and large domain name holders to utilize their inventory of parked pages by delivering AdWords advertisements targeted to those pages. The conceptually related keywords and advertisements are delivered via Google's semantic technology which "understands" the meaning of each domain name.

Here's how it works: DomainPark customers redirect traffic from parked domains to the DomainPark service. When Google receives the request, it processes the domain name and returns formatted HTML that includes contextual ads and related searches.

Customers can either display the full HTML page or include it in a frame. There are no set up fees, but the minimum amount of site traffic to qualify for the service is 750,000 page views per month.

Speak and Ye Shall Find - Voice Activated Search Arrives
It's not often you see true innovation in the search industry. Most of the "new" technology flaunted by search firms is simply old search technology, borrowed, recycled, trussed up with a lick of paint and paraded around as new.

Well, a company called SearchLimo have developed a truly new technology - at least new to me - a Voice- Activated Search Engine.

According to the site, you just "speak or spell your keyword(s), use phrases or sentences and let MyChauffeur (James or Jamie) drive you to the web's best destinations".

The program recognizes pneumonics of the English language and translates them into "actual" words for the compiler to recognize. The compiler then scours SearchLimo's database and meta crawls the web in search of the keyword(s) requested. The technology allows users to search the web by simply speaking into their PC microphones and letting SearchLimo's meta engines locate the relevant search results, just as the user would expect from a standard "type and search" engine.

The company has integrated the software with Netscape's browser and plans to officially launch the VG-SSE (Voice Generated Super Search Engine) on February 15th.

Click here for a full text/print version of this newsletter...