Website Proposal Template Software Review

By Kalena Jordan
I never read banner ads. That's why I was surprised to find myself clicking on a banner the other day. The ad intrigued me because it offered to fulfil a pressing need I had.


Over the years, I had developed what I thought was a fairly slick proposal template for my search engine optimization training business. But still the document lacked an edge. I knew I had lost a couple of recent pitches to my competitors and I wondered if there was something about their proposals that I was missing in mine.

You know that a good proposal can make or break a sale. This is particularly the case when your only communication with potential clients is via the Internet. But how do you know you've covered all the important aspects of your services? How can you be sure you've covered all project estimates? What if you need to include some legal contract information in your document but you can't afford to hire a lawyer? How do you make your proposal stand out from your competitors if you don't have any graphic design skills? Are you forgetting an important section in your proposal that your potential client was expecting? I found myself asking all these questions when preparing quotations for potential clients.

The banner ad from Proposal Kit offered a solution to my problem. It advertised "Turn-key contract, estimating and proposal kits for today's Internet professional". That's exactly what I was looking for, so I clicked on the banner ad, fully expecting to find some ultra-hyped, over-rated, disappointing backyard software. Boy was I wrong!
---
---
What I found was probably the most cost-effective and useful tool for online business that I have EVER come across. Seriously!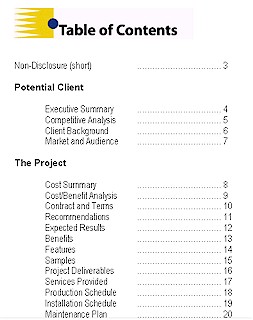 Sample Proposal Kit Table of Contents Template
Proposal Kit takes the guesswork out of drafting a proposal or contract. It automates the chore of putting together a complex business proposal. Basically, Proposal Kit provides a comprehensive range of templates to suit any business requirement and helps you build a framework for your proposal to match virtually any product or service offering. You then flesh out the templates with your own data and contact details. Templates are particularly suited to online businesses and include documents for the initial sales pitch, the planning stage, estimating, contracting, project timelines, analysis and even invoicing.

Want to include a Cost/Benefits analysis in your proposal? How about a Production Schedule or a Web Site Design Storyboard? With Proposal Kit, you have a huge range of professional documents available within instant reach to make up your perfect Proposal, tailored specifically for each client. You can even choose a colour scheme or graphic design theme to match your corporate image or that of your client. The style you see in the screenshots on this page is just one of over 140 different styles available.
The Proposal Kit Wizard Interface
But Proposal Kit is not just about creating "knock 'em dead" proposals. Use the included Contract Pack and you have access to legal binding contracts, sign off forms, copyright agreements and more. Find a web site stealing your content? Use Contract Pack's "Cease and Desist" letter template to draft your response. Want to provide users of your software with a easy way to report bugs? Use Contract Pack's Bug Report Template. Once I read the Quick Start Guide, it took me less than 5 minutes using Proposal Kit Wizard to set up a sophisticated Master Proposal framework to suit my business, incorporating 31 different templates from the recommended list.

Here's a summary of the different products Proposal Kit offers:

Proposal Kit Pro and Proposal Kit Web Freelancer

Proposal Kit Pro and Proposal Kit Web Freelancer are bundles of several products, including the most commonly used packages. Each collection (proposal, contact, estimate, planning, samples) can be purchased separately, or together in a bundle at a lower cost. These are designed specifically for web, CD-ROM, multimedia and tech professionals. Current retail price for Proposal Kit Pro is USD 197. A stripped down Web Freelancer Kit is available for USD 97. The Freelancer kit is mainly designed for web developers doing small scale projects. The Pro version suits companies with larger projects and a wider range of specialized areas.

Proposal Packs


Proposal Packs contain hundreds of templates designed for general business use (both tech and non-tech) by any company selling a product and/or service to another company. Use Proposal Packs by themselves or as add-on graphic styles with Proposal Kit. Current retail price of each Proposal Pack is USD 67.

Sample Proposal Collections

Sample Proposal Collections include examples of finished proposals. Samples illustrate how proposals have been created using various Proposal Pack styles. 50 Sample Proposal Templates are included for free in every USD 67 Proposal Pack. These sample templates alone have a USD 300 value!

Contract Pack

Contract Pack is a large collection of contract and agreement documents for web, CD-ROM, software, computer, multimedia and other computer software and hardware related work. Contract Pack is available in 4 formats:

Human Resources Contract Pack (USD 97)

Photographers Contract Pack (USD 97)

IT/Software/Hardware

Contract Pack (USD 97)

Contract Pack Pro containing over 200 detailed contract documents (USD 127)



Proposal Kit Wizard

Proposal Kit Wizard is an optional add-on software interface for MS Word to automate your use of Proposal Kit templates. Proposal Pack Wizard must be used with a Proposal Kit and/or one or more Proposal Packs. Proposal Kit Wizard works as a Microsoft Word Macro, automating common tasks that are usually performed manually using the proposal templates. Drag and drop your chosen templates into your Proposal Master document or simply merge them from multiple docs to create your final Proposal, ready to send. Use the Mail Merge feature to integrate your client's details. >> Add an attractive border or a custom logo or graphic using the global replace tool. Automatically create a Table of Contents and page numbering based on your merged document. Regular retail price of Proposal Pack Wizard is USD 42 or USD 21 if purchased with one of the Kits or Packs.

I've only touched on the products here, but plenty more information is available on the web site and their product comparison chart is, quite frankly, the best I've ever seen.
Proposal Kit Wizard's Template Selector
Proposal Kit requires Word 6+ for Windows/Mac or higher and supports Office XP, Mac Office and Office X. The only negative aspect of the product (and it's not actually a negative, just a necessary restriction) is that the legal contracts in the Contract Pack should not be viewed as binding legal documents. Because every business has different products, services, clients and operates in different geographical environments, legal requirements vary widely. By all means use the contract templates to draft your contract, but make sure you have the document carefully reviewed by your company law firm to ensure it meets your specific legal requirements. This is emphasized within the templates.

Proposal Kit has been available since 1999, Proposal Packs were introduced in 2002 and the Proposal Pack Wizard was released shortly after that. In January 2008, the software was given a major update and hundreds of new proposal and contract templates were added, combining over 800 pages of new content.
Developers of the product, Cyber Sea Inc., claim that Proposal Kit has customers world-wide, primarily in the US, Canada, UK and Australia. A large number of customer testimonials for Proposal Kit are viewable from here and I can understand their enthusiasm.

I was so excited by my discovery of Proposal Kit that I immediately wrote to the company asking permission to write a review and share my excitement with my newsletter and web log subscribers. Here's an extract from my gushing email to them:

"The huge range of proposal and international contract templates offered on your site seem to be ideal for persons in my industry - what a delight to find them! I would love the opportunity to tell my readers and SEM colleagues all about your products".
Sample Proposal Kit Executive Summary Template
So am I still excited? Absolutely. I've created a new Master Proposal, incorporating some of the professional templates such as Company History, Non-Disclosure Agreement, Production Schedule, Cost/Benefits Analysis, Testimonials and List of Acronyms into my client proposals. I was so impressed that I've even become a Proposal Kit affiliate (links to the product in this review are my affiliate links). Judging by the feedback I'm receiving, the use of Proposal Kit has already made a huge improvement in the quality and impact my proposals have on potential clients.

So if you run an Internet-based business and want to more accurately quote your projects, impress your clients, brand yourself as a top professional and close the sale, I highly recommend you check out Proposal Kit. Just don't tell my competitors about it!
Copyright © by Kalena Jordan. All rights reserved under U.S. and international law.
---
The above article may be re-published as long as the content remains unchanged and the following paragraph is included at the end of the article, including the URL links:
Article by Kalena Jordan, one of the first search engine optimization experts in Australia and New Zealand, who is well known and respected in the industry, particularly in the U.S. As well as blogging her own Search Engine Advice Column Ask Kalena, Kalena manages Search Engine College, an online training institution offering instructor-led short courses and downloadable self-study courses in Search Engine Optimization and Search Engine Marketing subjects.
---
_
Join the free Search Light Newsletter mailing list
Email:

Click Here for our Contact Details
Jordan Consulting Group © All material copyright 2000-2010. Disclaimer
Last Updated: December 19, 2010